Our Purpose
To discover ourselves and connect with others through climbing.
Our Promise
We promise to commit ourselves to offering every customer, partner, and guest who walks through our doors (or whom we meet outside of our doors) an inspiring climbing and fitness experience, an opportunity for self discovery, and a sharing, social atmosphere.
We live these values each and every day, to enrich each other, ourselves, and Sender One while at the same time fulfilling our Promises and Purpose.
Find Creative Beta
Harness your imagination thoughtfully by finding novel and interesting approaches to our everyday responsibilities.
Learn from your projects…and send them
Learn and grow from each task, challenge, and interaction. And follow them through to the end.
Climb together
Work together, support each other, share ideas, and earn trust.
Share Your Passions
You love something; something makes you happy—whether it's climbing, working with kids, or teaching. Pass that love along so that others can experience what you feel.
See the world from other people's perspectives
Treat others as they would want to be treated by conscientiously putting yourself in their shoes. Help others to also understand your point-of-view.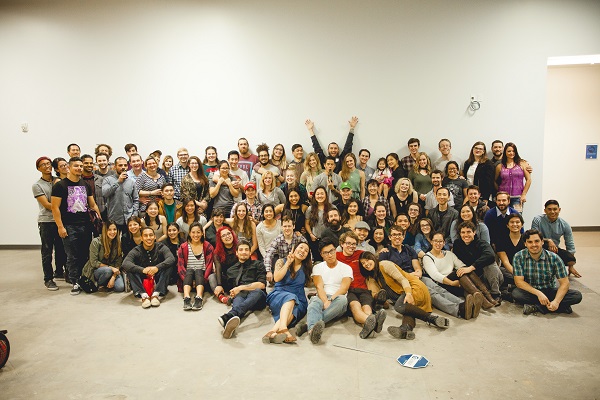 Our Story
Sender One's origin is the story of what indoor rock climbing means to each of the founders—Wes Chu, Alice Kao, and Wes Shih.  For each of them, indoor rock climbing was an avenue for self-discovery and a wellspring for community during transitional times in their lives.
For Wes Chu, indoor rock climbing wove its way into the fabric of his identity during his professional life.  Having endured a painful break-up  and a challenging move across the country from San Francisco to New York for a fresh start, Wes found himself adrift in a big city knowing few people and searching for himself.  At the local climbing gym, Wes discovered a diverse community and a path to re-centering his life.
Alice had an almost identical story.  She found climbing after ending a long relationship and arriving in London to start a new job.  Ever an adventurous spirit and determined to get over these difficulties, Alice found herself at the local climbing gym, the Westway Climbing Center.  She quickly fell in love with a sport and a lifestyle she had never experienced or imagined.  Now, married to Wes Shih and helping raising a toddler born of the experience, Alice can't fathom who she would be without climbing.
For Wes Shih, the local rock gym was his literal home away from home.  After finishing law school in Boston, rather than moving back home to California, he instead moved to Arkansas to intern for a judge.  The first place Wes sought out on arriving was the Little Rock Climbing Center, which had only recently opened its doors.  There, he found climbers that welcomed him into their little corner of the world with open arms.  Only a couple of months after arriving, Wes found himself leaning into that community for support more than he had planned—his judge passed away suddenly.  
When Wes, Alice, and (Other) Wes opened the first Sender One, they found in each other a shared experience and motivation for climbing—to discover themselves and connect with others.  This became Sender One's core purpose–a purpose they each wanted to share with as many people as they could.  
While people initially come to climb the beautiful walls, they stay because of the communities they find and what they learn about themselves through climbing.
We hope everyone who comes to a Sender One–from the child coming to their first Sender City party to the seasoned outdoor climber–discovers the joys of climbing; and achieves the same self-discovery and connection with others and their surrounding communities through climbing.
Moses
Route Setting Director
Moses began his love affair with climbing in his hometown, San Luis Obispo. After more than twenty years, that passion continues to influence his lifestyle and professional pursuits. Moses is a Level 4 USAC nationally certified route setter, most recently contributing to ABS Youth Nationals 2015, CCS Nationals 2015, and SCS Open Nationals 2014. Moses' route setting style, which he imparts to his coworkers, is informed by his rock climbing adventures across North America – including the Southeast, Squamish, and Hueco Tanks – and around the world – places such as Rocklands, South Africa; Catalunya, Spain; and Fontainebleau. His climbs are known for their sustained, technical nature, as well as their "flowing," comfortable movements. Moses has climbed 5.14a and v13. He teaches the occasional belay class, Foundations class, or private lesson, on request. Just ask!
Brian began climbing in 1999 in NC at age 12 and began setting for his local gym 4 years later. In 2006 he relocated to the San Francisco Bay Area, worked for several large climbing gyms, and picked up the nickname CUZ. He's climbed extensively throughout the United States with a broad interest in many disciplines within climbing. Together with the legendary Steve "Shipoopi" Schneider, Brian has climbed El Capitan aid routes up to the grade A3+, with a possible third ascent of the Virginia variation of Tangerine Trip. He has also been forced into many notable retreats from numerous Yosemite big walls, either due to logistics or inclement weather.
Kody, a long Beach native, has been addicted to climbing since 2005. He started gym climbing when he was a spry tween, at what was formerly The Rock Gym at Signal Hill, gleefully absorbing every dimension of the sport. Having now evolved into the man-child seen above, his love for climbing has pushed him deep into the art of route setting. Beyond setting, Kody enjoys wresting boulders outside with a child-like enthusiasm. His favorite areas include The Buttermilk Country of Bishop, Black Mountain, and Geology Tour Road in Joshua Tree. His proudest sends include Evolution (to the lip), Zen Flute, and his recent ascent of Sharma Traverse.
A SoCal native, Randy Casillan has been climbing since 2006 and has turned it into both a career and a way of life. He enjoys both bouldering and sport climbing and is trying his hand(s) at doing more trad routes. Some of his favorite climbing spots include Bishop, Hueco Tanks, Joe's Valley, and Tramway. His other interests include sailing, biking, photography, and playing Magic the Gathering.
Kris has been a non-stop climber since 2008. From the very first time he went to the local climbing gym in Sonoma County, his hometown, he knew climbing would be a life-long obsession. By the end of 2010 he was a route setter & team coach for that same gym and has never had a job that he enjoys more. He began working as part of the Sender One setter team in 2016. Kris loves bouldering outside, particularly in Bishop, crushing local comps & coaching the future leaders of the sport. He hopes to live & work in the climber lifestyle well into old age.
Devan has had the incurable sickness he addresses as climbing since 2011 and has never looked back. He started routesetting by simply raising his hand when someone at his home gym called out, "Anybody want to learn how to set?" Devan soon became absolutely obsessed with this dark side of the sport. He loved watching the smiling faces of members as they jumped down from one of his climbs. He also loved it when they attempted to get around a certain sequence, or "break" his problems, only to fail and fall to the ground. Through his dedication and willingness to learn, Devan soon earned the title of Head Routesetter at his local gym. Since then Devan has been dreaming of routesetting at Sender One, and what do you know? It happened. Devan's psyche for routesetting and climbing has skyrocketed him to places like Bishop, Black Mountain, Hueco Tanks, and his favorite area; Squamish. Believe it or not, Devan likes to do other things than just climb. He enjoys skiing, backpacking, skateboarding, playing frisbee, and just making memories. So if you ever see him around, don't be afraid to say hello!