Make the most of your first visit to Sender One
Whether you're a first timer or a seasoned pro, we offer unique experiences for all climbers!
First Time Climbers (Ages 14+)
STEP 1:
Choose which type of climbing you want to try.
What is Top Rope Climbing?
Top rope climbing is a great way for beginners to learn how to climb on a rope, although it doesn't come without challenges for more expert climbers looking to hone their skills. A rope is tied to the climber's harness which then runs through an anchor at the top of the route and back down to an approved belayer at the bottom of the wall. As the climber goes up, the belayer tightens the rope.
A Sender One Top Rope Belay Card is required to Top Rope Belay. New climbers can learn how in our Intro to Climbing Class!
What is Bouldering?
Bouldering is climbing without a rope on shorter walls. All you need are a pair of climbing shoes and chalk if desired.
No experience is necessary, but here are some things to keep in mind:
When you're done with a boulder problem, either climb down (recommended) or if you decide to jump away from the wall, tuck your arms in and land on your bottom while rolling onto your back in one motion.
Be mindful of your surroundings and those climbing around you.
Warm up properly.
STEP 2:
Take a class that covers all you need to know.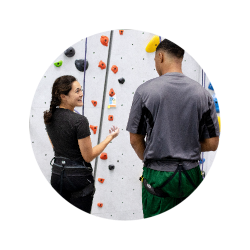 Intro to Climbing Class
This 1-Hour class will teach you how to tie into the rope as a climber, top rope belay using a GriGri, use climbing commands and perform checks to minimize risk while climbing. After completing this course, you will be able to climb independently at Sender One.  This class includes a day pass and rental gear. Students must be at least 14 years of age to take the class.  Reservations Required.
STEP 3:
Hooked? Visit again with our 5-Punch pass!
5-Punch Pass w/ rentals
First-time visitors or Intro to Bouldering students only. Limit 1 per person.
A punch visit may be used for the Intro to Bouldering Class
Expires 60 days from the purchase date
Waives initiation fee ($59) when you sign-up for a membership
Non-transferrable, non-refundable
Don't know what to wear?
Choose clothes that are flexible and lightweight - you'll want to be able to reach far hand and foot holds!
We recommend slim fit clothes that won't interfere with movement
Bring socks to but leave the shoes to us; Climbing shoes are free to rent until 3/31!
Harnesses and chalk bags are also available to rent at a small additional cost
Visit this page for more details!
Experienced Climbers
If you're new to Sender One, but not to climbing, here are some tips to help get you on the walls right away!
General House Rules
Climbs follow the same colored holds
Boulder problems finish with two hands on the last hold
Holds under the tag are fair game
Volumes are on only if they are the same color as the climb
Aretes are on and cracks are off unless otherwise noted on the tag
Top Rope Expectations
Everyone MUST have a Sender One Top Rope Belay Card visible on their harness whenever they are belaying. Ask a staff member about doing a Top Rope check when you arrive or call in advance.
Top Rope Belay Check Requirements:
Correctly tie in with a figure-8 follow-through knot backed up with a double overhand knot (sometimes referred to as a fisherman's knot or double fisherman's knot)

Correctly operate a Petzl GRIGRI 2 belay device.

Sender One requires the PBUS (pull, brake, under, slide) style of belaying
Lead Climbing Expectations
Everyone MUST have a Sender One Lead Belay Card visible on their harness whenever they are lead climbing or lead belaying. Ask a staff member about doing a Lead Climb/Belay check when you arrive or call in advance.
Lead Climbing and Belay Requirements:
Bring your own rope and belay device
- The rope must be at least 45 meters long


- Permitted Belay Devices: ATC Pilot, GriGri family, MegaJul, MegaJul Sport, Jul 2, Mammut Smart Alpine, Mammut smart belay 2.0, Madrock Lifeguard, Click-up, and Beal Birdie - no other devices allowed



During the lead check, participants will be required to climb a 5.10a, take a fall, and demonstrate proper lead climbing and belaying techniques

Sender One requires the PBUS (pull, brake, under, slide) style of belaying
Discover and connect with other climbers!
Looking for a belay partner or need a climbing buddy?
Join our Monday Night Meetup every 1st and 3rd Monday of the month at 7pm
Join the Sender One LAX Facebook Community Page to coordinate sessions with others
Leave your name on the Belay Buddy Finder during your visit
Sender City
Join an hour long session in our interactive climbing area where you will climb various themed walls, jump off towers, and race your friends up the walls!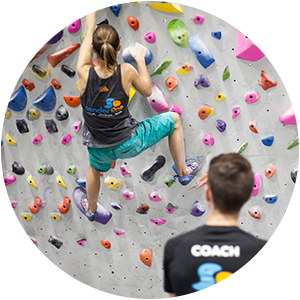 Climbing Academy
Learn the fundamentals of rock climbing from our industry-leading coaches in this 4 week course that includes bouldering, roped climbing, and technique.
Camps
Spend a day or week of fun in our climbing camps and experience a variety of activities including crate stacking, zip lining, climbing, Sender City, and more!
Kids Climb
Get a taste of rock climbing! One of our experienced coaches will get your little crusher geared up on ropes and belay them in this hour-long session.