It has been a pretty wet winter here in Southern California!  While we are headng into Spring, we are sure there are still some rainy days ahead!  With all this wet weather, we thought it would be a good time to revisit the common question: when is it okay to climb in/after the rain? 
The answer to this question really comes down to what type of rock you are hoping to climb, and is super important when it comes to taking care of our local crags, and leaving a minimal impact when we adventure outdoors.  Check it out! 
Sedimentary Rocks
Sandstone
Sandstone is the beautiful, usually reddish in tone, rock found in places like Red Rock, Nevada and Indian Creek, Utah.  Sandstone is a sedimentary rock that absorbs moisture, therefore when it rains (or snows!), a lot of water ends up soaking into the rock.  As the rock's surface gets wet, the cementing agents within the rock are weakened, therefore the rock itself loses a significant amount of strength.  This results in the rock breaking apart while wet, especially when put under the pressure of a hand or foot!  Unfortunately several routes at Red Rock have lost holds due to people climbing them before the rock was dry.  
A good way to tell if the rock is ready climb is to see if the ground is dry on the way to, and at the base of, the climb.  If the ground is still moist (not sandy and dry), then it is good to assume the rock is still wet, even if it seems dry on the surface!  Give it at least a good 24-36 hours (sometimes longer!) after rain before attempting to climb sandstone that has been wet!  If you're ever unsure, don't hesitate to ask local climbers or local climbing coalitions for their suggestions about climbing regarding recent weather.
Photo of conglomerate rock at Maple Canyon in Utah (from Mountain Project)
Conglomerate Rock
Conglomerate rock is a form of sedimentary rock that contains pebble- and cobble-sized clasts embedded within sediment.  This kind of rock is found in Maple Canyon, UT, and locally in Texas Canyon near Santa Clarita, CA.  As it is a sedimentary rock, it absorbs moisture much like sandstone, and should be avoided when wet.  Again, note your surroundings and take stock of the rock and ground conditions.  If the ground is wet, take a rest day! The rock will be there and ready for you to climb once it is dry! 
Igneous and Metamorphic Rock
Photo of granite at Joshua Tree National Park in CA(from Mountain Project)
These types of rock include granite, quartz, and volcanic rock.  These rocks are not very absorbent to moisture and are considered okay to climb when wet (though that rubber on your shoe may not stick as well!).  This means climbing wet rock in Joshua Tree National Park, or Holcomb Valley, will not impact the rock any differently than when climbing it while dry.  You may feel more slippery than usual, however, therefore caution should be used to minimize risk of injury. 
What do I do if it rains?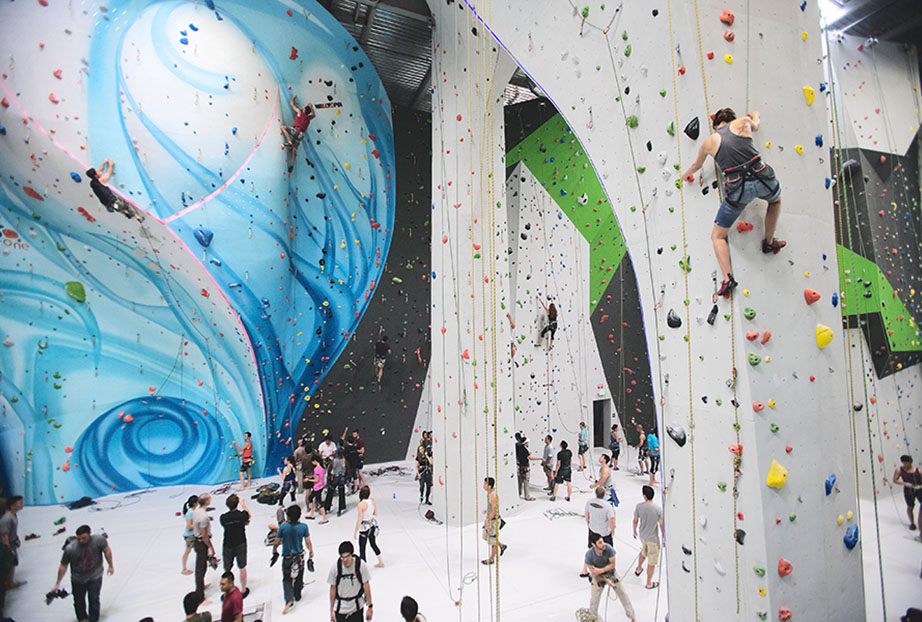 Sender One SNA (Santa Ana, CA)
Sender One LAX (Los Angeles, CA)
If your climbing plans have been soured by the rain, then take the opportunity to go for a drive, take a hike, explore someplace new, or come climb at Sender One Climbing, Yoga, and Fitness!  With locations in Santa Ana, and Los Angeles, our door is always open to provide your climbing fix, rain or shine!