Effective Saturday, 4/9/22, proof of full vaccination will no longer be required.
Masks are recommended but not required at all Sender One locations.
VIEW COVID-19 UPDATES (4/7/22)
Sender City is an interactive climbing center for kids and adults of all ages. Climb buildings and towers at this fun center located inside Sender One LAX in Los Angeles. Our auto-belay devices automatically retract a cable attached to climbers while controlling the speed at a comfortable pace when descending a climb or activity.
Step 1
Meet and greet our staff members to check-in for your session and to receive a wristband.
Step 2
Staff will assist you with your helmet and harness after viewing a quick orientation video.
Step 3
Climbers ages 14 and older will be taught how to properly clip in and out of the auto-belays.
Step 4
Let the fun begin! Scale towers, reach new heights, and have an adventure!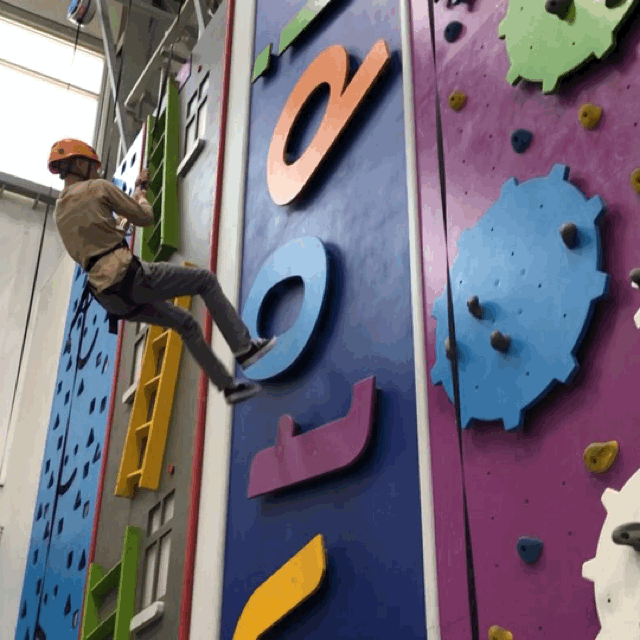 Each location features a unique set of interactive climbing walls & challenges.
Sender City Sessions & Pricing
Enjoy a weekday or weekend climbing session.

Looking to have your next group gathering or party at Sender City? Visit our Groups & Parties Page.
WEEKDAY & WEEKEND SESSIONS
Open Climb Sessions, 7 Days a Week!
Reservations and masks are REQUIRED and will be available to book two (2) weeks in advance.
Annual Pass Holders: Please only book one (1) session per day for now. Once you check in for your session, you will be able to climb for as long as you'd like while Sender City is open (unless there is a private party). Monthly guest passes can be used.

Includes 1-hr climbing session in Sender City

Includes rental helmet and harness

Arrive 15-30 minutes prior to your session

Supervising adults will be limited to one (1) per annual pass holder, and one (1) adult must be present for every two (2) children.

Everyone must wear closed-toe shoes. We do not permit black soled shoes, shoes with marking soles, or high-heeled shoes.

Wear comfortable clothing. We recommend pants or long shorts. Long hair should be tied back in a low ponytail.

Everyone climbing must weigh at least 35lbs.
Can't get enough of Sender City? Purchase this special pass and enjoy year-long fun.
Sender City Annual Pass
Best Deal & Most Popular
Enjoy 360 days of climbing at Sender City when you are an annual pass holder with access to a 1-hour climbing session every day

Reservations are required, but you can book up to 1 week in advance

Includes 1 guest pass to Sender City per month

10% off Climbing Academy

FREE Intro to Climbing class for annual pass member (must be 14+) or adults

$0 initiation when you sign up for a climbing/gym membership at Sender One

Annual Pass Family Pricing now available!
Booking Info
All climbers and observers must fill out an online facility waiver. This includes parents and kids who are not climbing.
Parents are responsible for clipping in/out their children.
Wear comfortable clothing. Pants or long shorts are recommended.
Closed-toe shoes required. No climbing shoes.
Climbers must weigh between 35 lbs to 300 lbs
There is no age minimum
Arrive 15 – 30 minutes prior to the start of your session. Late guests will be able to participate during the remaining time of the session and cannot continue past their reserved session time.
Reservation & Cancellation Policy
Sessions may be booked up to 2 weeks in advance
Reservations are required to guarantee your session. Space is limited!
Full payment is required when booking a session.
Refunds will not be granted for cancellations. You may be issued a credit for the amount paid. This credit can be applied to a future Sender City session or another offering at Sender One.
Cancellations made less than 48 hours in advance will not be refunded OR credited, and all credits or coupons will be forfeited.
Sender City LAX Hours
Reservations are required in advance.
M-F: 9:30am-4:30pm
(last session at 3:30pm)
Sa-Su: 9:30am-5:30pm
(last session at 4:30pm)
Groups & Parties
Celebrate your kids, family, and friends at a party they will never forget! Learn more about party options at Sender City.
Testimonials
"...my children were able to try something new and conquer some of their fears of heights."
See what people are saying about their Sender City experience!
What I LOVE about our experience at Sender City, was that my children were able to try something new and conquer some of their fears of heights. You would never guess that they were afraid to climb up the walls when they first arrived. By the end of their session, they were climbing all the way to the top of the obstacles.  I was not only amazed but proud of my boys for accomplishing this feat.
I just wanted to go again and again.  We explored the entire area which included cool pillars to climb, various climbing walls, even a structure with a high platform on top in which you can jump off to a trapeze swing or a swinging punching bag thing.  It was one of those experiences I will always remember and Emma loved every minute. It was really cool to get to do something like this with her.
Online Waiver
Everyone who enters the facility must fill out an online waiver.
Complete the waiver ahead of time and save time at check-in.
Sender One LAX
11220 Hindry Ave
Los Angeles, CA 90045
Climbing Center
Mon - Fri: 6am - 11pm
Sat: 8am - 8pm
Sun: 8am - 6pm
Sender City - Reservations Required
Mon - Fri: 9:30am-5:30pm
(last session at 4:30pm)
Sa - Su: 9:30am-4:30pm
(last session at 3:30pm)