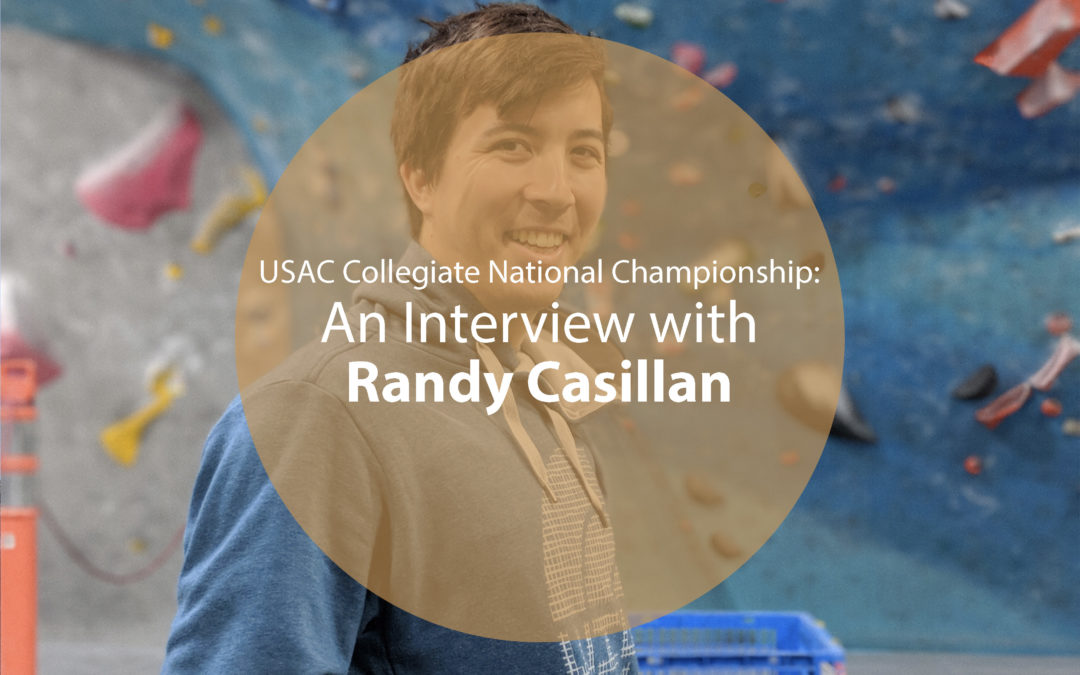 the content

Randy Casillan, possibly better known as RC, is Sender One SNA's routesetting foreman. Recently, he was invited to set for the USAC Collegiate National Championship at Momentum Indoor Climbing in Houston, Texas. We interviewed Randy about his experience at the National Championships.

Hello Randy. For those of us who aren't familiar with you or your setting style, can you tell us a little about yourself? 
Hi. I'm Randy, I'm the SNA routesetting foreman. I'm RC. I set what I think will be fun; climbing is like a puzzle. I like challenging people, and making them "solve" my climbs. Climbing is more than just a physical challenge, there's a huge mental game in climbing. That's why they're called problems.
That's awesome, that's probably why they invited you to set for the Collegiate National Championship. Can you provide some background on the event?
The championship was a two day event, and we set at two Momentum gyms. We had climbers come from all over the place, I even saw some climbers from Sender One there. We set boulders and sport climbs. It took a whole week to prepare for the event.
Wow, a whole week! How many other setters were there? Did you enjoy meeting and them?
I'm a social butterfly with the other nine routesetters. We had our own texting thread. I sent GIFs, and had a lot of fun. It was great connecting with the other setters. It wasn't just climbing, we stayed out and hung out throughout the week.
So you made friends. How was setting with them?
All the sets were a team effort. There was a lot of setting to do with a very diverse skill-level to accommodate to. We all had a say in everything, and we set climbs from V3 to V10. I even helped set a 5.8 for ropes.
Did you learn anything from the other setters? How did you contribute to the team?
Absolutely! Climbing is constantly changing and everyone has their own styles and ideas. Competition sets are a different game than commercial sets and it gave us an opportunity to try some new things.
I learned a bunch of new things, and Momentum has a lot of cool toys and tools that I got to try out. I think I was an I was positive influence on the team. I believe I have great attention to details, I notice things. I liked tweaking certain aspects of the climbs to just make the flow smoother.
Can you tell me how competition sets are different than regular sets?
For competition sets, we're really testing someone's skill in all aspects of climbing. We use the Risk-Intensity-Complexity scale for the climbs. Risk means a high commitment moves, like dynos. Intensity is the raw strength required for the climb. Complexity means the technical aspects of the climb, or the creativity in reading the route beta.
In the gym, I just like to set what I think would be fun to climb. I set all different aspects so I can challenge everyone and help them improve.
What was the best part of the competition?
Finals night was the pay off for all of our hard work. Watching the climbers try to figure out our climbs, and feeling the energy and hype from the crowds. The crowds would just go wild when the climbers would make certain moves, or finishing the climb.
Did you bring anything back from your experience? How is going to affect your sets at Sender One?
Well, I got this super cool jacket. And I'm back on dynamic moves. Paddles, I'm gonna set a bunch of paddles. Low percentage, high commitment moves. Risky moves, cross dynos, and such. 
Would you like to see anything new at Sender One?
Our gym is perfect. But I saw some cool new holds that we're planning on getting for Sender One.
Any advice for the climbing community out there?
Climbing is hard. Never quit. And all climbing styles are good. I've seen it all and it's always fun.
Thanks Randy.
Thank you.
Sender One SNA will be hosting the USAC Sport & Speed Youth Regional Competition. Click here to volunteer for the event!