Kids Drop-In Programs & Camps
Our drop-in programs and camps are a great way to introduce your child to climbing and other young climbers. There are options for ages 4-17 that feature climbing, zip-lining, tying knots, flying high on aerial silks...& more!
Welcome to Sender One's Youth Program, where we discover ourselves and connect with others through climbing. Your child's well being and development always comes first at Sender One, as we focus on building your child's confidence in a fun, welcoming, and supportive environment. Whether your child is enrolled in our Climbing Academy, Climbing Team, or Camps, our unique environment and experienced coaches make climbing fun and educational for everyone!
AGES 6 - 13
Sender One's climbing camps are designed to introduce the fundamentals of rock climbing through a variety of action-packed activities. Climb unique walls, balance on a slackline, crawl through obstacles, zip line through the gym and conquer the elements in Sender City. Camps are offered every season with morning and afternoon options.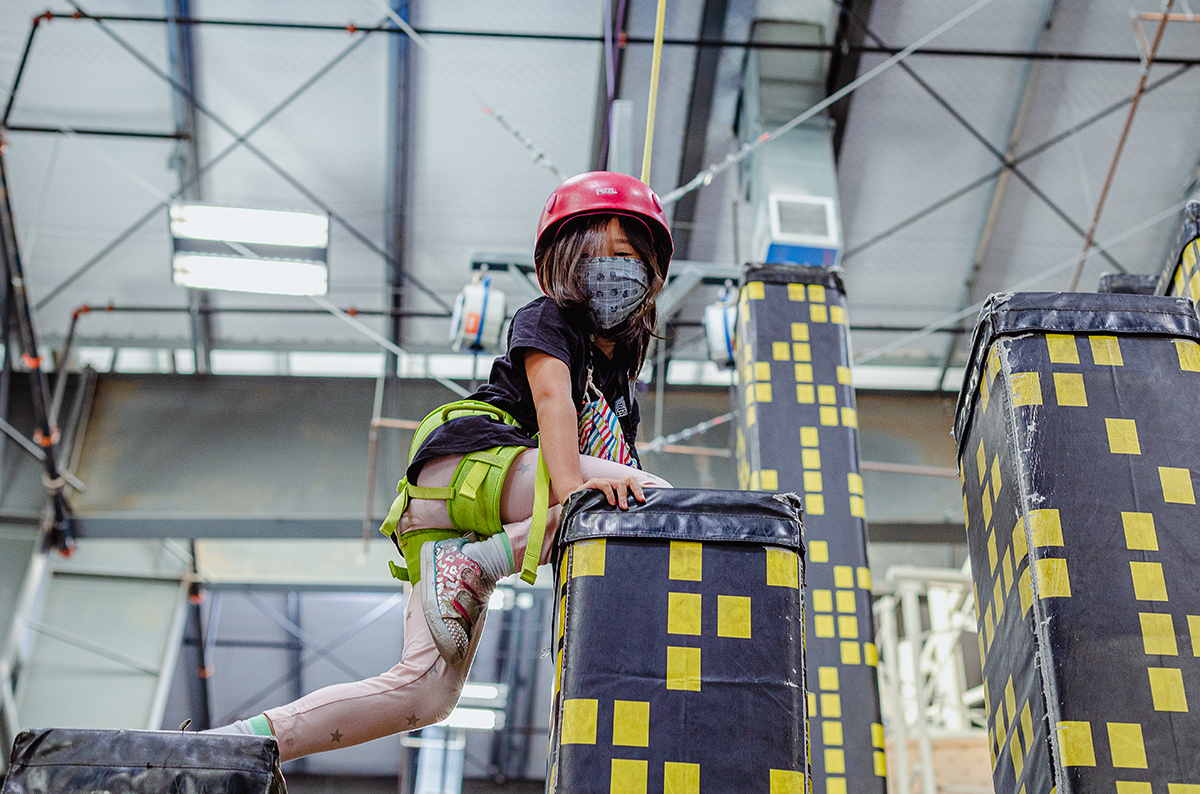 ALL AGES
Sender City is an interactive climbing center great for kids and adults of all ages! Climb buildings, towers, faces, or race your friends to the top of the climbing wall. Join for a single session, or host a party! Kids must weigh at least 35lbs.
AGES 6 - 13
Climbing Academy provides beginner climbers with a fun and exciting introduction to the vertical world. Learn the fundamentals of climbing, including technique, problem-solving skills, basic knot tying, climbing commands and safety checks. Students over 10 years of age are taught how to belay. After completing this 8-week course, students will be eligible to join a climbing team at Sender One. All climbing equipment is included!
AGES 8 - 17
Aerial Silks are a fun and creative way to develop strength and flexibility while learning basic climbs, foot locks, inversions, and sequences on the fabric. Each class includes warm-up exercises, skill work, and conditioning drills that focus on improving balance, coordination, and body awareness.
AGES 5 - 13
A great way to get a taste of rock climbing! An experienced coach will assist with rope climbing and belay during this 1-hr session. Perfect for all ages and no experience is necessary! All equipment is included.
Sender One SNA
1441 S. Village Way
Santa Ana, CA 92705
Climbing, Yoga, & Fitness Center
Monday – Friday: 6am - 11pm
Saturday: 8am - 8pm
Sunday: 8am - 8pm
Sender City - Reservations Required
Mon - Fri: 10:30am-6:30pm
Saturday: 9:30am-7:30pm
Sunday: 9:30am-7:30pm